You may have heard others talk about how they spotted geisha while traveling in Kyoto – but did they really see a geisha, or was it a maiko they saw instead? Or was it even a tourist who paid to dress up in a geisha outfit just for the experience?
Geisha vs. Geiko
Literally translating to 'arts person', geisha (芸者) are highly trained in Japanese traditional arts, including music, singing and dancing. By contrast, geiko (芸子) is primarily used to refer to geisha from Kyoto. Although geisha formerly referred to only those from Tokyo and its surrounding areas, it has now become the general term for all geisha.
Geiko vs. Maiko
Maiko (舞妓) translates to 'dancing girl' or 'child', and refers to apprentice geiko. They undergo about 5 years of training in various arts, before graduating to become geiko. Outside of Kyoto, the hangyoku (半玉) in Tokyo would be the closest equivalents to maiko. Hangyoku literally means 'half jewel' and are trainee geisha, although little is known about their training process. So summed up, the difference between geiko and maiko can be described as the difference between accomplished "master" of their art and an apprentice.
Now that we've clarified the terminology, what are the differences between geiko and maiko?
Hair style
Geiko usually wear a simple wig over their natural hair, usually in the typical style seen below. However, maikos style their own hair into elaborate arrangements that vary depending on the stage of training they are in.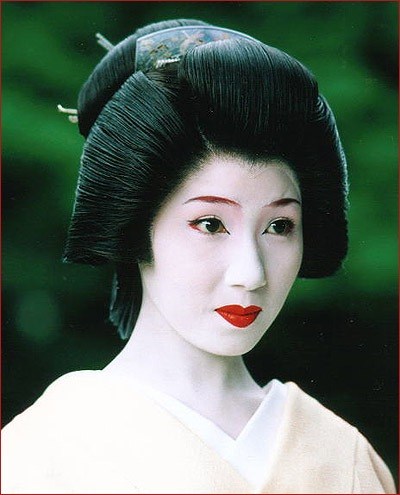 A typical geiko hairstyle
---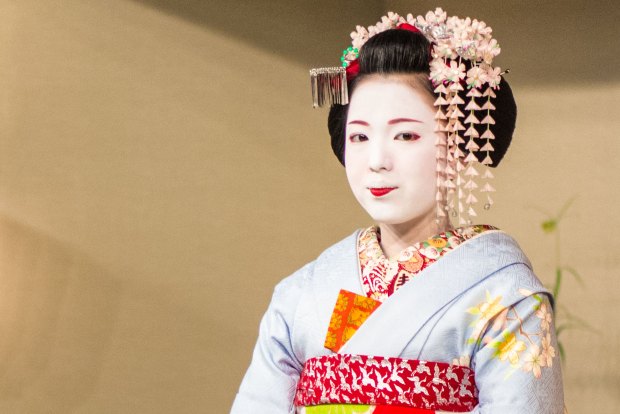 One of the several hairstyles that maiko sport during their apprentice stage
---
Hair Accessories
Maikos wear several elaborate hair ornaments, or kanzashi, such as fan or ball-shaped ornaments and combs. There is also the hana–kanzashi – an ornament with silk flowers dangling from the maiko's head to her chin. While this is one of the most recognizable hair ornaments, it is only worn during the first year Minarai stage of a maiko's training.
In contrast, geiko wear simpler ornaments or decorative combs in their hair.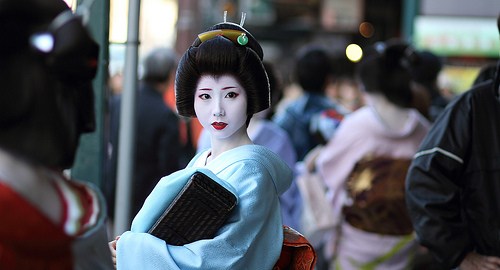 The far simpler hair ornaments worn by a geiko
---
Make up
As maikos do not wear wigs, they will have a noticeable band of unpainted skin at their hairline. Their eyebrows will be colored with red or pink, while their eyes will be outlined in red and black. First year maikos will have only their lower lip painted red, while maikos in the second year of training and beyond will have both lips painted. By comparison, as geikos normally wear wigs, there will not be any band of bare skin at their hairline. Their eyebrows will only have a touch of red, while their eyes are only outlined in black. Both their lips will be painted bright red.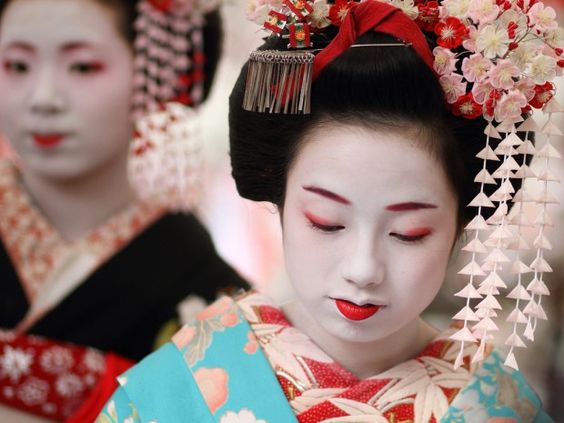 ---
Kimono
Maiko often wear brightly colored, long-sleeved kimono with a wide obi or sash that is arranged into a bow at their back and extends to their feet. The collar of their kimono will hang low at the back of their neck and is thick and embroidered, containing only red, gold and white (or cream) colors. The geiko are older, hence wear more mature kimono, usually in solid colors and shorter sleeves. Their obi are narrower and tied in a square knot, while their collars are completely white and sit higher at the back of their neck.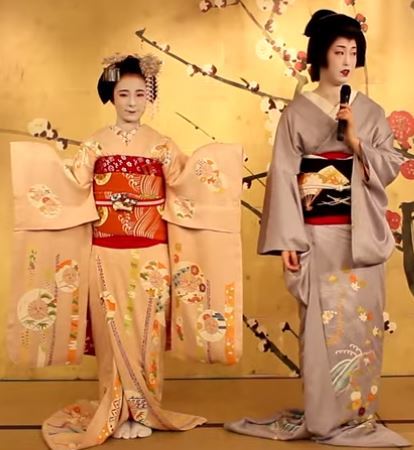 The simple, shorter sleeved kimono with narrow obi worn by the geiko contrasts with the more elaborate outfit of the maiko
---
Footwear
Maiko normally wear very high okobo(おこぼ), or wooden sandals. Geiko wear shorter zori (草履) or geta(下駄), although maiko may also wear those on special occasions.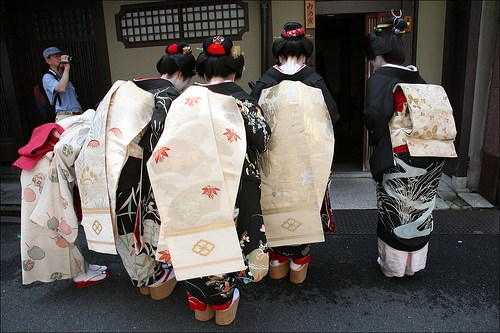 The footwear worn by the geiko on the right is far lower than that of the maikos
---
---
Real or Tourist?
With those differences between geiko and maiko in mind, how do we tell whether a white painted-faced, kimono-clad person sporting a traditional hairstyle is actually a maiko or geiko, instead of a tourist dressed up as one in disguise? Here are some tell-tale signs:
Hair Ornaments and Makeup
As the long, dangly hana–kanzashi is only worn by maiko in their first year of training, which corresponds to when they have only their lower lip painted red, a person wearing hana–kanzashi with both lips painted is not the real thing.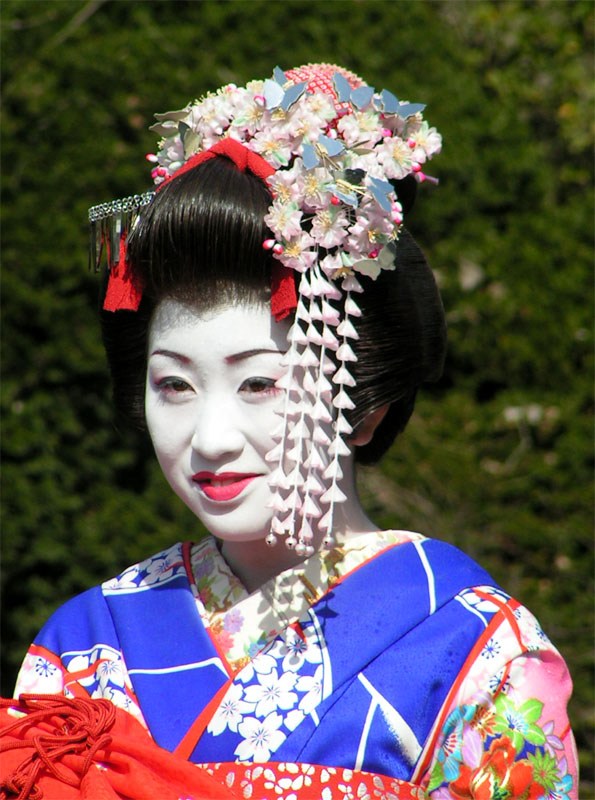 A dress-up maiko with 3 tell-tale signs: 'hana-kanzashi' paired with both lips painted; the presence of colors other than red, gold and white on the collar; and the relative lack of red on the collar.
Time of day
Maiko and geiko start their workday in the evening, hence a person in full regalia in the middle of the day is most likely a tourist.
Location
As maiko and geiko hold celebrity status, they will usually avoid crowded places and tend to use the backstreets to get from place to place.
Photo-taking
Customers pay for the time required for maiko and geisha to get from place to place, hence they will not stop to take photos with tourists.
Walking
While the okobo worn by maiko can be very high and difficult to walk in, maiko are trained to be able to move around in them and will not require the assistance of others for balance.
Seasonal Motifs
Geiko and maiko wear kimono with patterns that correspond to the seasons. Likewise, the motifs on their hair ornaments are aligned to the time of year too. If you see someone wearing an autumn kimono in spring, then she is most definitely not a geiko or maiko.
---
For more detailed information regarding the history and differences between geiko and maiko, go to http://geimei.tumblr.com/