The moon disappears
into darkening treetops
collecting the rain
–Bashō

Many temples and shrines are illuminated and have special extended viewing hours. In addition, live and street performances are held at stages around the area. The pleasant and unique atmosphere of Hanatoro attracts many visitors who can stroll the streets and see a different side of Kyoto.
---
Arashiyama Hanatoro
Check Dates: http://www.hanatouro.jp/e/index.html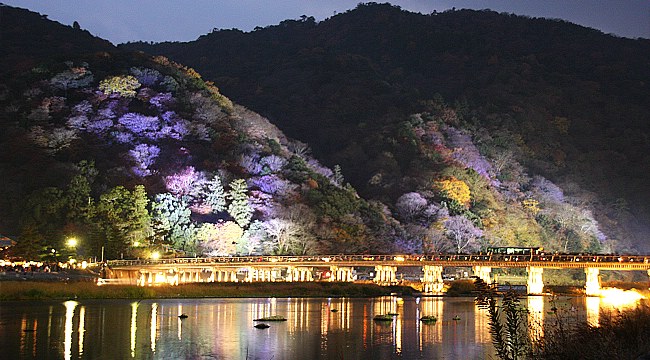 Togetsukyo Bridge
Arashiyama is a pleasant district on the outskirts of Kyoto that holds its Hanatoro every December. For ten days, more than three miles of streets around the town center and along the river are lit up by lanterns. Many temples and shrines in the area are illuminated and have special extended hours.
Among the most spectacular attractions are the iconic Togetsukyo Bridge spanning the river and the bamboo forest behind Tenryu-ji Temple. Both are illuminated during Hanatoro with the Togetsukyo Bridge being particularly beautiful as it is lit up along with the surrounding mountainsides.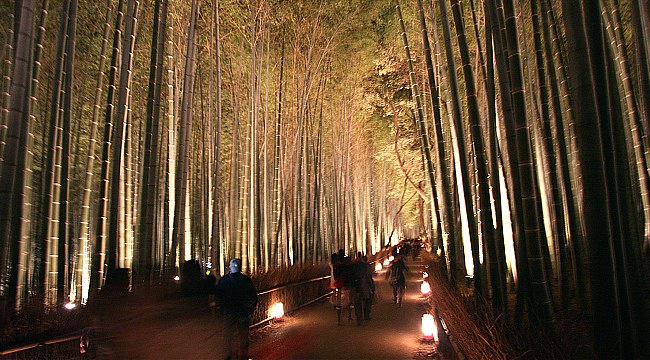 Bamboo Groves
---
Higashiyama Hanatoro
The next Higashiyama Hanatoro will be held from March 3 to 12, 2017.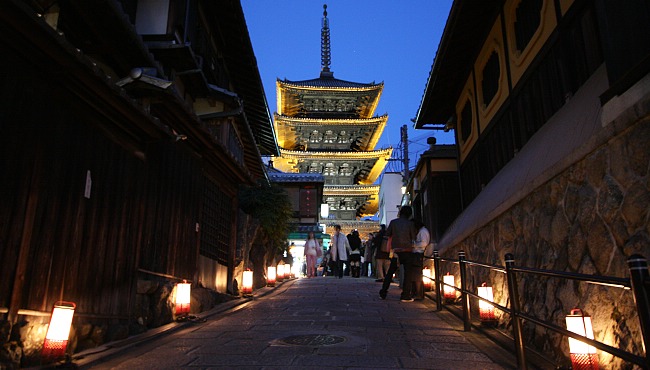 Yasaka Pagoda
During the March Hanatoro the streets of Kyoto's historic Higashiyama District are lined by more than 2400 lanterns that stretch from Shorenin all the way to Kiyomizudera. Nearly all of the popular temples and shrines in the district are illuminated and have extended opening hours.
The Hanabutai stage is set up in Kodaiji Temple Park where daily live music, dance and performances are held. Additionally, performance areas in front of the large central weeping cherry tree (shidarezakura) in Maruyama Park and Kiyomizudera are set aside for street performances.
Many shops also have extended opening hours during Hanatoro, and in combination with the illumination events makes for a pleasant evening atmosphere which attracts many people to the area during a time of the day when it is usually rather deserted.
Check here for correct dates: http://www.hanatouro.jp/e/